If you've been following Chez Lisgar closely — which you should be doing — you know that we've been giving away weekly trips to NYC!
Just kidding, we haven't. But we did go to New York for two weeks, which is partly why we decided to take a break this month! Check it out!
Just kidding, we can't afford Hamilton tickets so what's even the point*? We're taking May to revisit some Chez Lisgar details in an effort to make our next dinners even more awesome for our guests, so stay tuned for some big changes.
Now that we've discussed our plans for the future, let's go back to March 25th. There was probably still snow on the ground, the temperature was in the single digits, and of our three guests, one of them was a reporter for the CBC.
Nadya and I were pretty nervous, since this was an interview that would be broadcasted across the entire country, but Sophia was such a funny and easygoing interviewer, I felt myself relaxing soon after her arrival. She each us a few questions on the inception of Chez Lisgar and Bunz, and spent the rest of the evening filming our cooking process. Nadya went straight to work since we were running behind schedule; I stood around and probably looked helpless.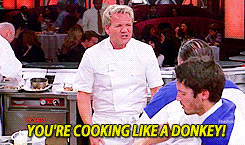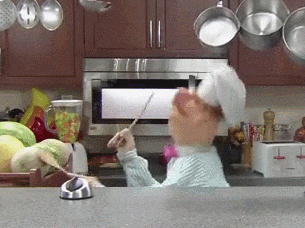 Our menu for tonight included an apple walnut and roasted brussel sprout salad, as well as feta mac 'n' cheese with tiger shrimp.
We were lucky to have picked such a popular comfort food for this particular dinner, because as it turned out, our two main guests Alex and Jordan were both in relationships with chefs and obviously had very refined palates. On top of that, Alex works for Just Eat (my go-to delivery service when I'm too sad to get out of bed) so she's also surrounded by plenty of food every single day.
Despite having a camera recording every bite of food we ate and Sophia asking us to repeat certain answers for sound quality purposes, conversation with Alex and Jordan flowed easily. We swapped YouTube videos and music recommendations. These were our favourites of the night:
We naturally got around to discussing our favourite restaurants in the city. As it turned out, Jordan's boyfriend used to be a chef at the same restaurant that a chef friend of ours currently works at, so we started there and I'm pretty sure we ended up talking about every single type of cuisine known to man. I was honestly amazed at how much I didn't know existed in the world of food and could be found within a few minutes from our apartment.
I was also struck by the role food plays in defining Toronto. Each neighbourhood proudly shows off its own unique restaurants, whether it's momos in Parkdale, tacos in Kensington, dim sum in Chinatown, souvlaki along the Danforth, or whatever delicious monstrosity that's featured at the Ex.
Any time someone from out of town asks me how they can get the most out of the city, I list food before the CN Tower, Ripley's Aquarium, the Distillery District, or any other touristy attraction. Summers in Toronto centre around cultural festivals, various wine and beer tasting events, and endless gourmet food trucks at all our outdoor concerts. Being one of the most diverse cities in the world, it's guaranteed you'll find the next life changing meal here. Similarly, when I travel to other cities, the first thing I look up is their most popular restaurants. Honestly, the last time I was in New York City, coming up with dinner plans did feel kind of like a massive presidential debate.
Food holds a special place in my heart. Like music, you don't need to understand how it was made to recognize something good. I remember going to an Ethiopian restaurant with some coworkers for the first time a few years ago and having the most incredible vegetarian platter. It's like that scene in Ratatouille when the high-maintenance food critic takes one bite of Remy's dish and is immediately transported to a specific day in his childhood — our relationship with food goes beyond just filling our stomachs.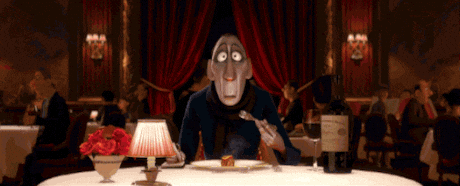 *If anyone DOES want to trade us Hamilton tickets for a dinner, consider your spot guaranteed.